About the book
Keep Fit for Violinists is a concise method for keeping in shape, both technically as a violinist and to keep muscles healthy, helping to enhance performance and to avoid strains and injuries.
The book starts with 6 pages of loosening-up exercises, including some special forearm exercises from Dr Katherine Butler of London Hand Therapy, an easy core muscle workout and tips for holding the violin and the bow without tension. The exercises do not require any equipment and can be done anywhere – at home, in a hotel room or discreetly at a rehearsal venue. They do not require any great physical effort and take very little time to do.
Following the introduction there are a further 28 pages of progressive technical exercises covering all aspects of playing the violin. Once these are mastered, they can all be practised in under an hour for a comprehensive technical workout. There are also some silent warm-ups for those moments when you don't want anyone to hear you warming up, and some daily exercises which combine to make a super quick warm-up.
The exercises range in difficulty, some are suitable for complete beginners, others for professionals or advanced students and everything in between. Whilst the book is laid out in a careful order for advanced players who may want to practice the whole book, there is also a special index suggesting an order for students to initially approach the exercises.
Author's Preface
When I first started working I was surprised how little time there was to practise. I realised that to keep my playing in good condition I would need a concise method of exercises. Later in my career I also learned the hard way through an unfortunate injury, the importance of warming up and taking proper care of muscles.
Over 25 years I compiled and developed these exercises to create a method for keeping my playing, and myself in shape in the shortest possible amount of time; they have also been very useful in considerably reducing the time needed to return to performing after a break.
I hope this method helps to keep you fit. £1 for every copy sold will be donated to the Royal Society of Musicians of Great Britain, helping to support musicians whose lives have been affected by accident, illness, stress and anxiety.
About the Author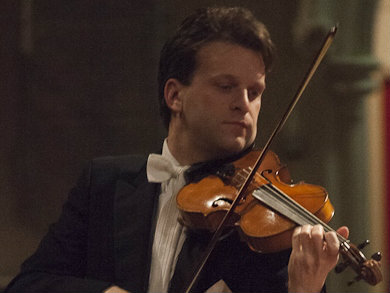 Dominic Moore began learning the violin with Pamela Spofforth at the age of 8. He later won scholarships to Winchester College and the Royal College of Music studying the violin with Itzhak Rashkovsky, and also the piano as a joint first study with Peter Element. From the ages of 8-18 he also attended Pro Corda, Europe's leading chamber music school, where he is now Director of their Senior and Violin Courses.
Dominic has appeared as guest leader with the Ulster Orchestra, Royal Liverpool Philharmonic, Bournemouth Symphony, Orquestra Nacional do Porto, Presteigne Festival Orchestra, Birmingham Royal Ballet and was co-leader of the West End production of Phantom of the Opera. Dominic has recorded many soundtracks for film and TV, including The Lord of the Rings trilogy, Dr Who, Miss Marple, Downton Abbey, Call the Midwife and Poldark.
Dominic is co-founder, leader and musical director of the St. George's Chamber Orchestra, resident at St George's, Beckenham. As well as directing and leading the SGCO he frequently appears as soloist. Solo performances have included the Beethoven violin concerto, Mozart's A major concerto and the Sinfonia Concertante with the LSO's principal viola Edward Vanderspar.
As a soloist, Dominic has recorded a CD entitled Cafe Music with the pianist Daniel Becker for Persephone Books. The disc was brilliantly received, being broadcast several times on BBC Radio 3 and Classic FM and was described by Classic FM magazine as 'playing of grace and zest'.
Dominic plays an extremely rare Spanish violin by Marianus Ortega, thought to be the only surviving example of the maker's work. The violin is featured in a book entitled 'The Golden Age of Violin Making in Spain'. He is immensely grateful to the Countess of Munster, Abbado and Ian Fleming Trusts and the Musicians Loan Fund for help with acquiring his violin.
Dominic is also an enthusiastic badminton player.
Dominic Moore performs Intermezzo from Crown of India Suite by Elgar (arr. Simon Baggs) with the St George's Chamber Orchestra, conducted by Simon Baggs:
Contact Us